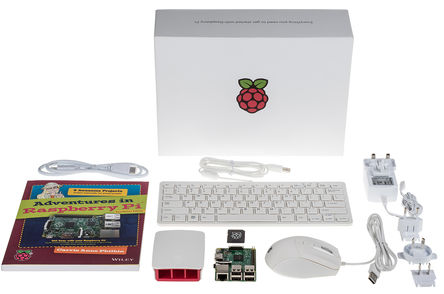 The Raspberry Pi Foundation has finally put out an official starter kit as the Raspberry Pi 3 Model B, complete with optical mouse and keyboard in a very Apple-looking shade of white, plus all the cables you need to get up and running.
The Pi-in-a-Box kit from the Raspberry Pi Foundation provides a premium, plug-and-play experience. The included Raspberry Pi 3 comes pre-installed in the case along with the microSD card containing the NOOBs operating system. Simply plug it into your HDTV or Touchscreen Display (sold separately), connect the power cord, and you'll be up, running, and ready to follow the fun projects in the Adventures in Raspberry Pi book in no time. Attractive, high-end packaging makes this kit a perfect gift for any Raspberry Pi enthusiast.
The full list of items included in the official Pi starter kit is as follows:
A Raspberry Pi 3 Model B
An 8GB NOOBS SD card
An official case
An official 2.5A multi-region power supply
An official 1m HDMI cable
An optical mouse and a keyboard with high-quality scissor-switch action
A copy of Adventures in Raspberry Pi Foundation Edition
The official Pi starter kit is available to order online in the U.K. from the Foundation's distributors element14 and RS Components, priced at £99 (+VAT). While sales are slated to open up to markets in the rest of the world "over the next few weeks".